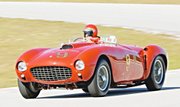 #
When dozens of classic and exotic race cars roll out for Bahamas Speed Week 2012, all media eyes are expected to zero in on one specimen so rare it is believed to be the last remaining one of its kind in the world in original condition.
#
"We are very excited about the arrival of the only remaining 375MM PininFarina Ferrari Spyder in original condition," said Speed Week President Jimmie Lowe. "This same car actually raced in Nassau during the original Speed Weeks when it was campaigned in the Governors Trophy and the Ferrari Race by driver Duncan Black. That was in 1955, 57 years ago."
#
According to event organizer and director David McLaughlin, the Spyder's web of success began in the U.S. with the 1954 12 Hours at Sebring when it was handled by Bill Spears and America's first world champion, Phil Hill.
#
"Its final race was at Watkins Glen with Ian Gun, after which it was parked up in a barn, where it remained for nearly 40 years," said McLaughlin. " Two years ago, after Ian's death, the car was acquired by its current Austrian owner, Andreas Mohringer, who has had it 'sympathetically restored,' vowing to preserve the car's complete originality. Fortunately for us, he also believes the car should be used and seen rather than locked away in a private collection. After all, half of the enjoyment of this car comes from hearing the glorious sound emanating from its four tail-pipes."
#
According to McLaughlin, the latest owner of the legendary Ferrari also deserves credit for generosity.
#
"Mr. Mohringer is offering a ride in the Ferrari for three laps of the Arawak Cay race circuit as part of the Auction of Promises in conjunction with the Pictet Speed Week Ball," said McLaughlin. "The auction raises money for Bahamian charities and with prizes like this and others we are receiving, we hope to top last year's donation of more than $42,000 to various charities."
#
The rare Ferrari Spyder will be joined by dozens of exotic and classic race cars in late November when the event kicks off with a formal launch followed by a series of activities, including an island tour. Honorary Patron racing legend Sir Stirling Moss will lead that tour zipping around the island at speeds of up to 135 miles an hour in his -- also rare -- Osca FS375 that he drove to victory in during the original Speed Weeks 51 years ago.
http://www.sfmotorsports.com